This week we have an interview with a self-taught acrobat and gymnastic teacher Yuri Marmerstein. Meet the inspiring beard man Yuri!
Hi Yuri! Tell us! Who is Yuri Marmerstein? 
"Hello!  I'm actually not very good at talking about myself, so I will do my best. I am a professional acrobat based out of Las Vegas, though I originally came from a self-taught background which is not very common in the industry.
Right now the majority of my work is split between teaching seminars all over the world and performing in Las Vegas.
As far as hobbies and fun/lifestyle they are very much related to my work. I enjoy seeing the many different facets and possibilities for development of the human mind and body.
To complement this, I try to live a clean lifestyle that allows me to stay sharp mentally, maintain my physicality, minimize stress, and promote longevity in what I do. I think the main attribute which dictates my life is to try to maintain constant personal development."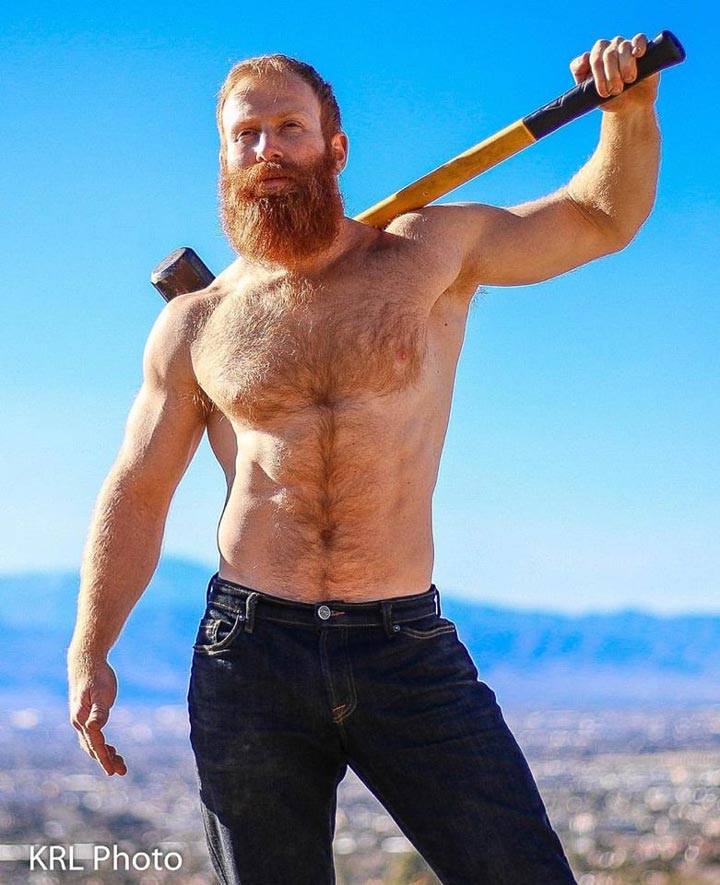 How do you travel the world and remain focussed/in good shape?
"If I am being completely honest, I feel like I don't. Every time I travel I always make some kind of setbacks in work and training. On the road it can be very difficult to get work done and to train and eat properly. Especially compared to my time at home when my eating and training is very dialed-in while allowing plenty of time to get work done.
I try to get things accomplished how I can, when I can. In terms of training on the road it is very difficult to keep up with skill work, so at the very least I try to maintain my base physical shape. I still usually end up losing weight when I travel because I am unable to eat like I prefer.
Since I run my business completely on my own, it's something that has to always remain on the back of the mind or else it is too easy to get behind on work. I try to allow some time every day to answer emails and queries that I usually get."
Which sport/movement do you love the most?
"I do not have one answer for this question. If you continuously asked me this over the years, I would have had many different answers depending on when I was asked.
Now that I have had a chance to train and be around high level athletes in so many disciplines I have quite a different answer.
Every form of movement has its unique traits, but also in that lies limitation. Presently when I look at any movement style, I look at both the benefits and limitations of practicing that style. I know it's not the best answer, but it's the honest one. There is no longer any movement style that I obsess over like I once used to."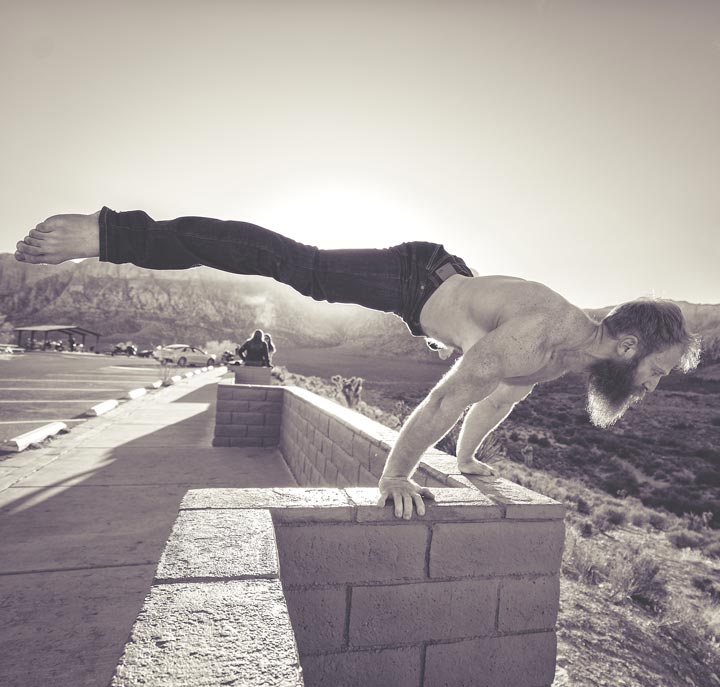 You're known for your handstands, gymnastics and movement. What do you recommend beginners for starting out with a handstand?
"The answer here is that there are different levels of beginners, and handstand is a skill that requires both physical and psychological adaptation to perform. The physical capabilities of supporting weight on the arms need to be developed, but completely separate from that people also need to get over the fear of being inverted. Most important is that there needs to be a developmental process for the skill. I break the learning down into 5 basic steps: alignment, arm support, inversion, arm support combined with inversion, and balance. Before attempting a wall handstand, beginner students need to get accustomed to creating a certain shape with their bodies, supporting weight on the hands, and being comfortable and aware while upside down.
Before adding on the concept of balance corrections, the student needs to be very stable in the wall assisted handstand. This process can be a bit complex, but anyone can achieve a freestanding handstand with a bit of work.
The process towards learning the freestanding handstand is detailed in my ebook, "Balancing the Equation" which can be found on my website. This is one of the most complete and thorough resources on the subject."
What are the steps from a regular handstand in to an one arm handstand?
"The one arm handstand (OAH) is a very complex skill, and is no easy task to achieve.  Even after achieving the skill there is often a bottomless pit of refinement that comes with perfecting it.
Before seriously trying to work on the OAH, someone should be VERY comfortable and consistent on two arms.
It is also helpful to already be proficient in skills like leg movement, handstand walking, press handstands, and handstand pushups prior to seriously taking on the one arm work. OAH also takes many repetitions, so being able to train every day and having a high work capacity are also required. Flexibility can also play a big role in making the skill easier to learn.
The steps towards the OAH itself are really simple: gradually shift the weight into one arm until the opposite arm is weightless. Then carefully lift the free arm and balance.
The hard part is putting in the time while working gradually and methodically. It is normal to hit plateaus, so being able to analyze faults in the technique is also crucial.
I have a free article on basic one arm handstand development available for download on my website that goes into greater detail.
http://www.yuri-mar.com/products/absolute-bodyweight-control-how-to-begin-training-for-the-one-arm-handstand
However, even that is still brushing the surface into how complex learning this move can be."
How often do you train? And how does your schedule look like?
"The short answer is I try to do some kind of training every day, but it's complicated. I train in different disciplines, but also spend a large part of the year traveling. Things can get a bit chaotic sometimes so I really do not have a set schedule I follow. When I'm home I typically train in floor acrobatics, dance, capoeira, hand balance, circus arts, weight lifting, calisthenics, and flexibility. I usually train daily, 1-2 sessions.
On the road I train when I can and try to maintain physical shape more than skill concentration.
I am also very careful to moderate training and intensity to how my body and mind feel. With what I do, it is important to have a good sense of when to back off on the training in order to avoid injury or setbacks."

Do you split your training? And how do you combine movement/acrobatics/gymnastics with weightlifting?
"There is no simple answer here like anything else, so I am going to try to break it down as generally as possible.
I break movements down into skills and attribute development. Skills would be individual movements, dance, acrobatics, handstand work, et cetera. Anything that has unique technical specifications. Attributes are what make the skills easier or possible. Attributes can include things like strength, power, speed, flexibility, and coordination (this can also fall into skill work).
Let's use the example of a back-tuck (standing back flip) on the floor for this scenario. This skill requires power, timing, speed, coordination and some strength to perform correctly.
The skill portion of the movement is about the timing of the jump and air awareness, while the attribute portion of the skill has to do with the power of the jump, the speed of the shape change in the air, and the absorption of the landing.
Skill work may include drills for jump timing, backward rolls, and backflips with a spotter or on a trampoline for air awareness. Attribute work may include some weightlifting, plyometrics, sprints, and hanging leg lifts to increase speed, power and strength. Sometimes just skill repetition works both the skill and attribute portions. As an example, an acrobatics training session requires strength, power, and flexibility but can also help develop. However, to counter this, many people need to work the attributes separately to make the skills more easily accessible. Often times lacking proficiency in a certain attribute can hinder the technical development of a skill. However, to counter that, having high scores in some attributes can also allow skills to be performed with bigger technical flaws. This is why it is important to maintain a balance.
So the above concept is something I always apply though most of my training is skill-based. Typically, skill training is less stressful on the body so more repetitions are able to be performed. It's important to know the stress on the body that a movement discipline places, so you know how to recover from it and how often to train it.
In my own training I generally try to take one day a week as a dedicated strength and conditioning day. The majority of my work is then about skill development along with interspersed attribute work integrated into it."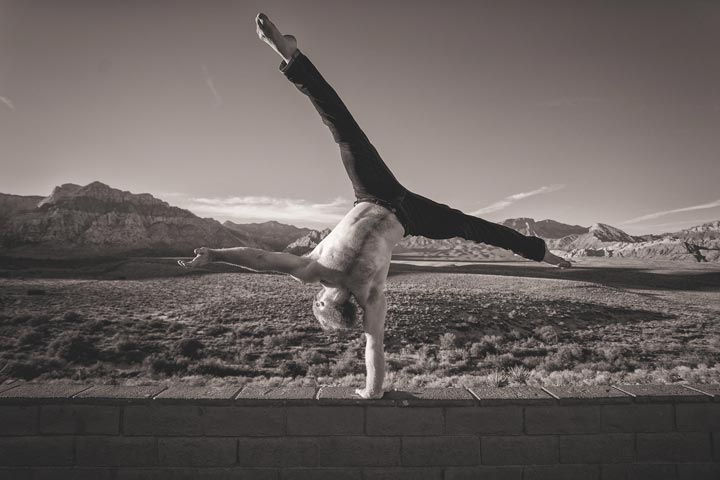 How do you improve your movement, flexibility and mobililty?
"Keep in mind how I improve my mobility does not mean this is the best answer for others.
I include a lot of basic mobility work through out the day, when I wake up in the morning, and in the warm-ups and cooldowns surrounding my training. Likewise, I may take a couple sessions during the week to specifically try to improve range in certain positions like splits or bridges. I also try to take extra care when traveling as sitting in a car or airplane is an easy way lose flexibility.
My mobility training includes a combination of soft tissue release, passive flexibility training, loaded flexibility work, as well as active and dynamic work. This is combined with my training in martial arts, dance, handstands, and circus arts which also require high levels of mobility.
Mobility training for adults in general is not a simple thing however. Sometimes the restrictions in movement are less obvious like emotional trauma, mind-body connection, scar tissue from previous injury, or skin/fascia restrictions.
The main point I will make is that it takes dedicated work to get flexible, just like anything else.
The typical western lifestyle is also one that does not promote mobility, so it is important to make adjustments to it to help with the progress."
Do you follow a special diet?
"I don't follow a special diet, but I try to be very aware of what I put in my body. I love cooking for myself but because I travel so much I can't be too picky."
Which goals are you working on currently (business and sport)?
"Again probably not the typical answer, but it's the honest one.
I don't really think in terms of goals as I feel it is a very limited way of thinking.  It reminds me of this quote from "Dune", one of my favorite books:
"Any road followed precisely to its end leads precisely nowhere. Climb the mountain just a little bit to test it's a mountain. From the top of the mountain, you cannot see the mountain."
I prefer to think in terms of suggestion or general direction rather than specific goals. Specific goals do not work well for my way of thinking because I am constantly changing my perspective, standards, and approach. This may completely change the meaning of the goal or achievement once it is met.
I want to continue to further my own development as a student, teacher, athlete, performer, and businessman. However, there are no milestones or benchmarks I am pressuring myself to hit. It's a consistent process that will continue for the rest of my life, and I am taking it all at its natural pace."
What is in your opinion a good teacher?
"This is a subject I have studied a lot and am still learning more about every day. I will talk about a couple attibutes I think are vital for teachers to possess:
Being able to connect with your students. Know where they come from, and why they make the mistakes you can do. It's easy to get disconnected from this, which is why it's also important to still continuously play the role of a student even when teaching is your profession.
Being versatile under chaotic conditions. Sometimes when I teach workshops, I have no idea of the group I have or the facility I am teaching in until the actual class begins. This means I have to very quickly assess the situation to be able to modify the class. Embracing and working with chaos is a huge factor for growth in any skill.
Move towards making themselves obsolete. A teacher's goal should be for their students to no longer need them. Cultivating independence is where true progress can be made both on the large scale of a subject or on the smaller scale of personal development. Some teachers try to limit and control their students, but I feel that this is a small-minded approach.
Have the confidence to say "I don't know". Nobody can possibly have all the answers, and someone truly confident in their abilities have no problem not being able to anwser a question or referring their students to someone else."

Who is your inspiration?
"I don't have a clear answer for this. Over the years, I have drawn much inspiration both positive and negative from many people I have encountered and experiences I have taken part in. I try to make every experience a lesson, so my training, movement, lifestyle, and business practices have been influenced by a countless number of people. I could never pick just one."
Do you have any dreams for the (near) future?
"I have no dreams or destination in mind for what I am doing. I already consider myself incredibly lucky for being able to build a career and make a living for something I care about and am passionate in. Just a few years ago, I would not have even considered it possible. As far as dreams, I just go wherever the current takes me and then see what happens."
Do you have any upcoming seminars?
"I do!
Here is a list of my confirmed locations where I am teaching over the next few months:
Las Vegas
Sydney
Melbourne
Brisbane
Perth
Adelaide
Manchester
Leeds
Amsterdam
Ljubljana
Slovenia
Lloret de Mar
I have only begun planning for 2017, so I still have a lot of availibility. Other places I may be teaching next year also include Germany, Switzerland, Ireland, Canada, and the US.
You can find my schedule of seminars on my website: http://www.yuri-mar.com/events/
However, not all workshops I teach end up on there so it's best to check my Facebook as well."
Where can we follow Yuri?

First would be my website, www.yuri-mar.com
Next would be my different social media channels: